UV Printing gives you the freedom to print directly onto virtually anything.
Are you already making tees or polos for local businesses? Well, our line of UV Printers is ideal for all the other products these companies need, just like employee name tags.
The speed and quality of the Mutoh XpertJet 461UF makes it easy to make big profits by selling something as simple as name tags.
Let's break down some numbers.
Custom Name Tags for Sale
After a quick online search employee name tags, similar to the ones we made in this video are retailing anywhere from $8 to $10 a piece.
But this price can vary depending on the quality of the blank name tag, the amount of variable data, and the quantity you purchase. This leads us to How you can make custom name tags with UV Printing
How to Make Name Tags | UV Printing
Our flat-bed printers like the Mutoh XpertJet 461UF uses LED-UV light to dry ink instantly. UV inks are a mix of monomers (small molecules that are the building blocks of polymers), oligomers (small polymers) photo-initiators and pigments (colorants).
Basically, when the photo-initiators are exposed to UV radiation they release extremely reactive atoms and molecules that cause polymerization. That's the bonding of the monomers and oligomers which are also holding the pigments and moving from liquid to solid, and all of this in a split second.
So, when the UV light hits the UV ink it goes from liquid to solid immediately. The inks are now cured! Because of the unique nature of this process you can make textured prints, highlight certain areas, create optical effects and even print braille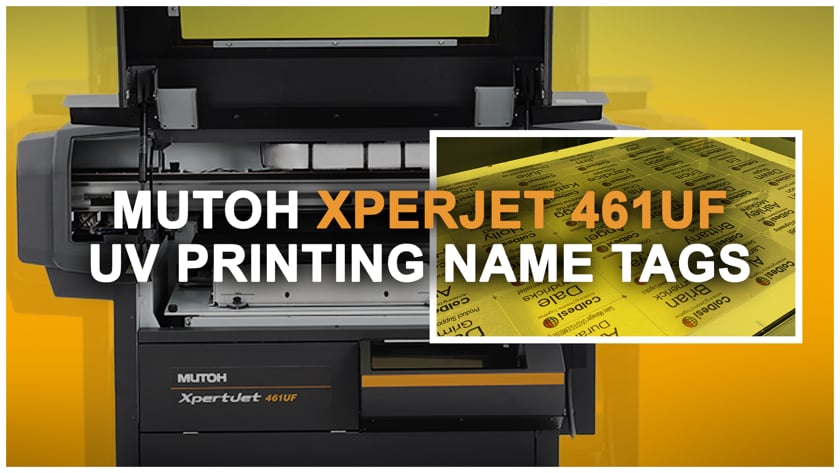 Where to find blank name tags
For this project we used aluminum name tags from bestblanks.com. These high quality metal name tags are not just great for UV printing, there are also sublimation ready. At bestblanks.com you can find a wide selection of sublimation ready products and blank apparel.
UV Printed name tags – Costs to Produce
Each blank name tag is going to cost $1.06, if you purchase a bulk order of 150. Magnetic clips for the back of the badges can be bought cheaply in bulk for $0.33 per name tag.
Ink costs to print all 36 of these name tags is only about $0.34. That is less than a penny per name tag.
Total costs of goods per custom uv printed name tag = $1.40.
How much can I make selling name tags?
The Mutoh XpertJet 461UF is FAST. It took about 9 minutes to print on all 36 name tags.
That means you can easily flip the bed about 6 times an hour.
By retailing each custom name tag at just $9 a piece you generate $1,944 in revenues in just one hour!
Revenues per hour: 216 name tags per hour X $9.00/tag = $1,944.00
Materials Costs per Hour: $302.40
Remember, our cost of the blank name tag + the ink and magnetic clip backing is $1.40.
So, 216 name tags are going to cost you about $302.40 in materials.
After subtracting the cost of goods, you are able to put $1,641.60 in your pocket for just ONE HOUR OF WORK!
More about making name tags with the Mutoh XpertJet 461UF:
The versatility of our lineup of UV Printers is unmatched.
Live chat below with one of our pros or call 877-793-3278 today.