FREE DTF Transfer Kit Included!
FREE DTF Transfer Kit Included!
Now INCLUDING Direct to Film Transfer Printing! That's right, every DTG G4 now comes with the ability to make high color, high quality, high washability transfers!
Better yet – there's no difference in price – it's FREE with your initial DTG G4 purchase starting NOW.
DTF Transfer Kit includes:
Beautiful prints, low cost per print, fast and reliable. That's DTG G4! 
Call or chat now for current special deals:  (877) 458-0444.
Special Pricing! FROM $13,995 with FREE DTF Transfer Kit!
Advanced Technology –
Incredible Reliability –
Beautiful Prints
The G4 DTG Printer from ColDesi fulfills the promise of Direct to Garment printing.
DTG Printers used to be high maintenance, often wasting valuable ink and other supplies every day. And they used to need highly skilled operators and expensive additional software.
They used to be hard to use – right from the hooping stage – all the way through design management, printer settings, and especially care and cleaning.
But the G4 DTG Printer is DIFFERENT – a breakthrough for both the brand new T-Shirt Printing Entrepreneur AND the seasoned pro.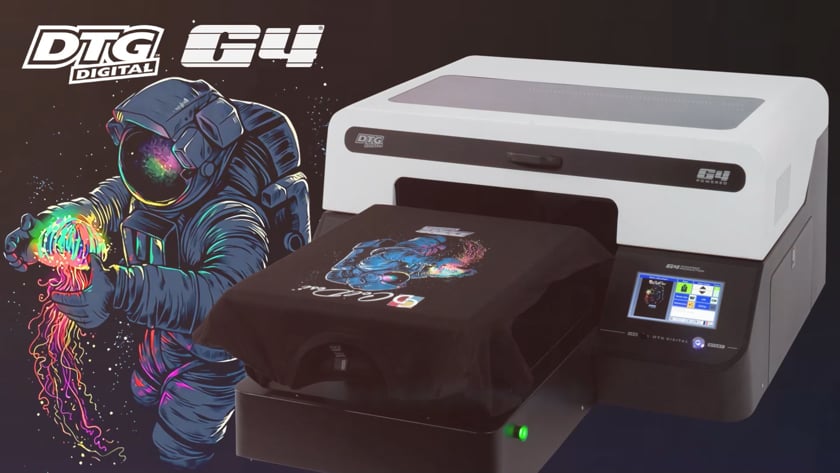 As a Startup or first-time digital printer owner, you'll really love the LOWWWW maintenance. The system auto cleans and that full-color touch screen panel tells you when you need to do anything at all to maintain the system.
And if you want to take it on the road or run it from a kiosk or retail store you can go computer-free and print from designs stored right on the printer itself.
The G4 Printer uses Kodak Kodacolor DTG Inks designed specifically for this printer – and no one does beautiful images like Kodak!
Direct to Garment Printing, and the DTG brand direct to garment printers, in particular, is a fantastic technology that allows almost anyone to print incredibly colorful, high-impact images directly onto tee shirts and other textiles.
If you've dreamed of creating your t-shirt line, have terrific ideas that would look great on fabric bags, leather materials, canvas, and even non-garment textiles like linens, towels, and the like, then ColDesi's DTG Brand is right for you.
If you are an experienced t-shirt business professional, especially a screen printer or user of another brand of direct-to-garment printer, you are also in the right place!
Imagine being able to offer your customers incredibly high quality, full-color prints in minutes – and get to say YES to short runs, keeping all that extra business in-house. DTG brand direct to garment printers from ColDesi give you the best combination of speed, quality, productivity and cost on the market today. 
Direct to Garment Printing is ideal for short-run (up to 100 or more) garments with designs that contain multiple colors or variable data.
Our customers excel in target markets like promotional apparel, charities, and not-for-profits, family reunions, birth and wedding announcements, corporate events, small companies requiring short run printing of full-color logos, business launches, and wearable art.
You will see our most successful customers doing some incredible online sales in quirky ("attitude shirts") and custom user-designed tees as well. In fact, when you search for and buy a custom tee online today you are probably getting a direct to garment printed product from one of our customers!
The digital apparel printing business is a great business to enter into in any economy.  
The New G4 Printer t-shirt printing machine has a low capital investment and high-profit margin – that makes it easy to start and achieve immediate cash flow, especially with one of the economically available lease programs.
Want to know more about the DTG Printers?
We believe in privacy and communicating in the best way for your business. By completing the above form, you agree to be contacted by ColDesi Inc through phone calls, emails, and text messages. You can opt-out of emails with unsubscribe links or opt-out of texts by replying STOP at any time.