Whether you're new to the customization world or you've been wanting to complete your business with an add-on machine, Graphtec cutters are a great way to go. 
Vinyl customization is popular for many reasons. The main reasons being that it's affordable to get into and it's EASY to learn. 
Running a successful vinyl business requires a high-quality, sturdy machine. That's why we offer Graphtec cutters. 
Graphtec is one of the leading brands when it comes to precision cutters and their CE7000 series is no exception. The CE7000 series offers the latest in cutting technology, offering professional features and advanced software to help improve efficiency and productivity. 
These cutters are engineered for higher productivity. Start creating signage, custom t-shirts, stickers, and much more! 
The Graphtec CE7000-40 vinyl cutter is a fast, accurate, and versatile cutting plotter. Made to cut most media, the Graphtec CE7000-40 is perfect for creating custom products with solid colors, glitter, and patterned materials. 
 It's a 15″ cutter, that can fit on a table or on a stand, great for an at home business or shop. Easy to use and affordable to get into, the CE7000-40 can help you get into the customization business or act as an add-on to your existing business! 
Designed with an improved cutting speed, rear media roll rack, and a larger maximum cutting width, the Graphtec CE7000-60 is a "step up" from the previous model. 
This is a great choice for your business if you're looking to create tons of vinyl designs at a faster pace. 
It's an 24″ cutter with USB thumb drive port that allows you to print and cut jobs without internet connection. The new media feed tracks the thickness of materials being fed into it for accurate cutting.  
The Graphtec CE7000-60 cutter features an updated ARMS system and datalink barcode system to automatically process multiple jobs at the touch of a button. 
The Graphtec CE7000-130AKZ is the largest model in the series, featuring a maximum cutting speed of 39 inches/sec at a 45 degree direction. 
This powerful cutter will boost productivity for your business by providing a larger cutting field and faster speed. It also features four push rollers that allows for a more stable cutting process.
With the ability to cut up to a maximum width of 50 inches, this cutter is most popularly used in the automotive industry. It's versatile enough to cut various items like window tint film, sign graphics, standard vinyl, floor graphics and much more! 
How Do Cutting Plotters Work?
#1

Start with a Graphic or Design
Getting graphics ready for cutting is easier than you may think! 
Create custom graphics and designs using CoredlDraw, Photoshop, or Illustrator.  
You also have the option to have something custom made by graphic design professionals at ColDesi Graphics.
This is a premium digitizing service that can help bring your design ideas to life so you don't have to. 
Order graphics and designs from scratch or fix up any art work you may already have. 
Then once you have an art file ready to go, you can send it to your Graphtec cutter.
#2

Send it to the Graphtec Cutter
Sending a print and cut ready file to your Graphtec cutter takes just a few seconds. By using Graphtec Studio software, you can load your design, make any changes if necessary and send it straight to your cutter.
This software offers tons of different cutting/plotting options like centering, mirroring, over cuts and much more. Plus, it accepts a wide variety of file types.
As long as the cutter is plugged into your computer, using the USB port, then you are ready to go! 
#3

Heat apply it to your substrate
A heat press is a commercial machine or iron that combines heat and pressure to apply transfers to a substrate or blank. There are plenty of different style heat presses like clamshell, swing-away, and even cap or mug presses! 
A substrate is just another word for the object you are printing on. So, for example a substrate can be a t-shirt, mug, coaster, tote bag, and much more. 
With heat transfer vinyl, you can pretty much apply it to almost anything! 
So once your Graphtec cutter has finished cutting your design out, all you do is weed the excess vinyl and heat apply it to your substrate. 
Did you think there were more steps?! Depending on the complexity of what you are using the cutter for, there isn't much more to it. You can create tons of different custom goodies for your business quickly and easily.
Watch the Graphtec Cutters in Action!
What Can You Make with Graphtec Cutters?
With vinyl cutters like the Graphtec CE7000 series, there are TONS of items you can customize. 
Here are just a few examples of what you can customize with Graphtec: 
Where can I find blanks and accessories?
With Graphtec cutters and vinyl, the possibilities for customization are endless. 
At Colman and Company we offer all kinds of blanks you can apply heat transfer vinyl to. Shop for t-shirts, mugs, tote bags, and so much more. 
But blanks aren't the only thing you'll need for a heat transfer vinyl business…you'll also want to stock up on vinyl and accessories. 
It's important to use high-quality heat transfer vinyl which is why we created our in house brand, Triton. It's offered in opaque, glitter, and neon colors! Plus, it's known to cut smooth like butter and weed easily. 
As far as accessories, we recommend having weeding picks and extra blanks on hand. 
How much does it Cost to start a Heat Transfer Vinyl Business?
Included in our Cut n Press Starter Kit comes everything you need to get your t-shirt business started. 
This package is geared for those of you who don't want to invest in large or maintenance heavy equipment. Or this is a great option as an add-on to any existing business. 
Along with some items like the Graphtec CE7000-40, Colman Heat Press, rolls of vinyl, weeding picks, and more, the price is for starting a business with this package is $2,495. Or you can finance for as low as $68 a month! 
Of course there are other bundles we offer that include even more than just the starter kit. 
Depending on what your goals are for your business and which cutter you'd like, our packages can vary from starter to professional. 
Let's COMPARE the Graphtec Models
Graphtec CE7000-40
Finance as low as $38 per month*
Max Cutting Area: 15" x 164'

Advanced Registration Mark Sensor

Graphtec Pro Studio Software​

ColDesi Support & Training
Graphtec CE7000-60
Finance as low as $52 per month*
Max Cutting Area: 23.7" x 164'

DataLink Barcode scanner for continuous cutting

USB Thumb Drive support for offline cutting

XY segment area compensation

Rear media roll rack with media brake

Graphtec Pro Studio Software

Plug-in for Adobe Illustrator and CorelDraw

2 Years Parts & Labor Warranty

ColDesi Support & Training
Graphtec CE7000-130AKZ
Finance as low as $146 per month*
Max Cutting Area: 50" x 164'

Auto registration mark sensor (perfect for print and cuts)

Fast & Accurate Digital Servo Motor

4- Point Dual Axis Skew Correction

Tangential Control Enhanced Precision

Plug-ins available for Adobe Illustrator and CorelDraw

2 Year Parts & Labor Warranty

ColDesi Support & Training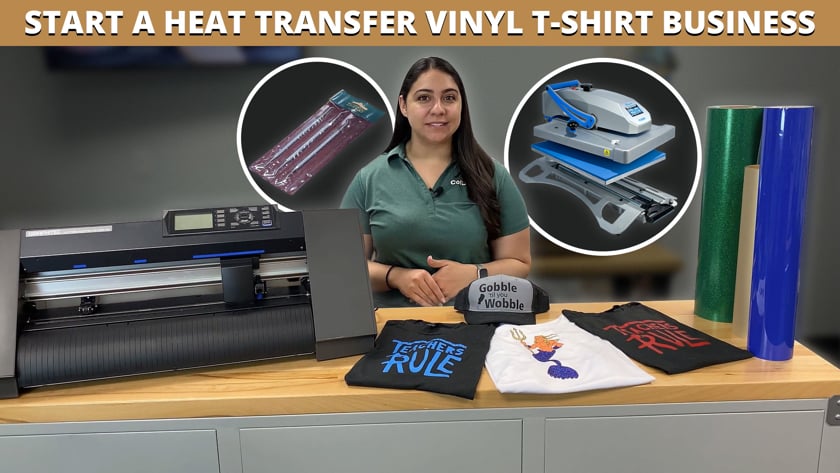 Is a Graphtec Cutter Right for your Business?
With a low cost of entry and low learning curve, Graphtec cutters are a great option for ANY business whether you're starting from scratch or purchasing it as an add on. 
At ColDesi, we've curated bundles and packages that are set up to help get your vinyl cutting business up and started right away! 
Contact us below to chat with a Graphtec professional today. 
Complete this form and get started today.


We believe in privacy and communicating in the best way for your business. By completing the above form, you agree to be contacted by ColDesi Inc through phone calls, emails, and text messages. You can opt-out of emails with unsubscribe links or opt-out of texts by replying STOP at any time.