What does "T-Shirt Printer for Sale" Mean?
Many people who are looking for a good t-shirt printer for sale are using the t-shirt printer term because they don't yet know that there are unique names for each type of t-shirt printer technology.  There's a bit of research to do in order to find out what might work best for your business.
Finding a T-Shirt printer for sale near you will most likely start with one of these common technologies:
The first 2 are really t-shirt TRANSFER printers, but that's just a technicality. They're usually used to customize or decorate custom t-shirts or promotional/gift items.
Finding a Sublimation Printer for Sale
A comparatively inexpensive way to get into the custom t-shirt printing business is by purchasing a dye-sublimation or dye sub printer.  On the lower end, you can get a true sublimation printer from about $600 going up to $4,000 for a complete bundle.
The PRO to these is the starting price and the number of things you can print on – not just t-shirts, but mugs, keychains, coasters, etc. And the images can amazing. The things you print will stay pretty much gorgeous no matter how many times you wash them too.
The downside is that whatever you apply the transfer to has to be either made of polyester or treated with it. AND can only be white or a very light color.
So you would be in the white polyester custom t-shirt business. You can finance new ones for around $110/month or less.
And you can find used sublimation t-shirt printers on http://quipdealio.com, for example, or on Facebook Marketplace or eBay for example.
If you intend on make this a business business and not just a side-hustle. With growth. You probably want to buy new or used from a reputable dealer that can answer questions for you. Check out http://bestblanks.com for that. 
White Toner T-Shirt Transfer Printers for Sale
This is a new breed of printers! Think of these as really good quality commercial full color laser printers that print on t-shirt transfers.
The big advantage of making custom tee transfers with a white toner printer is… the WHITE TONER!
You can make cheap transfers with any laser printer or inkjet home printer, but the images are dull and won't last.
The sublimation printers are great, but you can only print on light colors and polyester.
White toner printers like the OKI pro8432WT or UniNet i550 though, make heat press transfers that you can add to almost ANY fabric. That includes cotton, poly and blends.
AND they will product amazing quality images on DARK garments too!
These printers start new at about $4k but you'll end up spending $6-11K for complete systems depending on the model you pick. You can find out more about those at http://digitalheatfx.com.
You are moving up the quality and capability scale here because they come with professional software with lots of options and transfer paper choices that are important.
So you will need TRAINING and SUPPORT.
Ask the reps at the website above if they have any used machines first. Ones that come with training and support. Or, you can go find one on the used market at Quipdealio or on Facebook or eBay – but plan on forking over $1500 or so to get the support and training you'll need.
Finding a good deal on a Direct to Garment Printer
Many, many times when someone says "t-shirt printer" this is what they're thinking of.
A direct to garment printer for sale actually prints directly onto a t-shirt, just like the name implies.
There's no transfer involved, you literally load the blank t-shirt onto a tray called a platen and print just like you do with your home inkjet printer.
Of course, THESE inkjet printers are in the $15K-25K range new, so there ARE some important differences.
These are real professional machines that require maintenance.
This is a WARNING – be careful buying a used t-shirt printer for sale that's a dtg printer. Even more than with white toner printers you will have to have training and support! Start with dealers or manufacturers, like ColDesi and http://dtgprintermachine.com.
Unlike the white toner printers above, direct to garment printers use liquid ink instead of toners. If they're not maintained properly the actual printing components can be ruined and required to be replaced. That's a $2K-$4K bill.
Stick with NEW and look at the new DTG G4 from ColDesi – it's got the lowest required maintenance, is easy to use and prints beautifully.
If you want to offer the very best quality custom tees in smaller quantities, then this is the t-shirt printer you should be looking for.
Silk screen machines, or screen printers, are the only really mechanical device you'll want to investigate.
The good news is that you can customize almost ANY fabric and color. And the per print cost is REALLY cheap.
The downside is that the cost, time and MESS to set up is completely different than the others. Almost all of your cost for screen printing t-shirts happens up front and after you're done printing.  
We won't go over the all the processes to making a single "screen" – you can watch a video comparison below: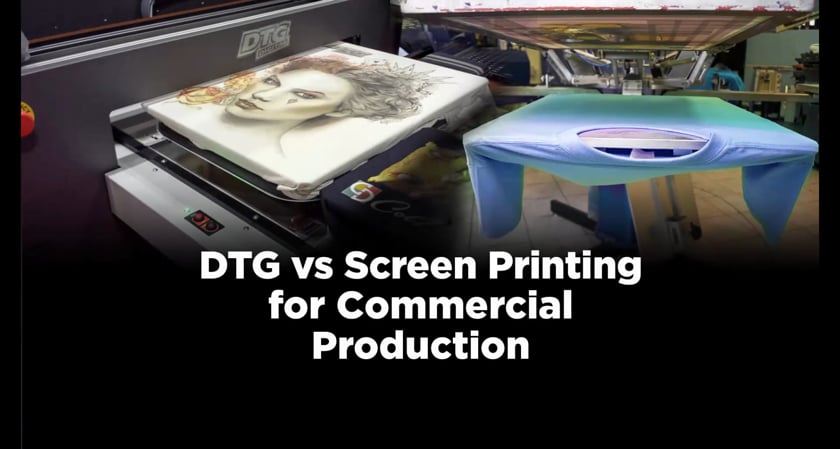 Suffice it to say that there's a reason that can't buy ONE or even 5 screen printed shirts. It's just too expensive to set up and clean up!
So the only time you should consider screen printing systems as a "good t-shirt printer for sale" is going to be if you produce runs of a minimum of 36 or 500 or more on a regular basis. And you don't need to offer multiple colors [described in the video]
The best way to find a GOOD T-SHIRT PRINTER FOR SALE is going to start with what you want your business to look like. Identify who your customer is. Find out what kinds and quantities of shirts they're going to want to buy.
Then match that with your budget and the equipment descriptions above.
Or you can shortcut that entire process and talk it over with a professional at ColDesi that will walk you through all your options!
Questions on which t-shirt printer is right for your business?
Call 877-793-3278, chat below or select the contact us button to speak to an account manager today.