People spend a LOT of money on dancewear, cheer, and gymnastics uniforms, and tees. [And not just for the kids! Maybe YOU have a few blinged-out "cheer mom" shirts in your closet?]
In fact, the largest cheerleading apparel company in the country just expanded its bling equipment – demonstrating that BLING is here to stay.
And the latest thing they've added? Spangles – and for all the same reason YOU should consider adding them to your business too.
Definition: Spangles are like a sequin without the hole. But rather than being sewn on, they are made into a heat press transfer made of a kind of plastic disc that LOOK like rhinestones.
They are a flat, shiny, disks that shine and shimmer just like rhinestones, BUT they are lightweight, smooth, and breathable… Perfect for comfort!
And here's the thing…. Bling is a BIG MONEY MAKER. Spangles retail values are the same if not more than rhinestones AND they cost less.
Let's break down some numbers.
Custom Bling Apparel for Sale
After a quick social media poll on our Custom Apparel Facebook page, our customers retail custom bling apparel anywhere from $25 to $35.
You can find Spangle shirts for a little less on Etsy, about $20 – $25, BUT these aren't fully custom. They only carry premade designs.
With this research, it's easy to see you can get at least $30 each for a completely customized tank top with Spangles.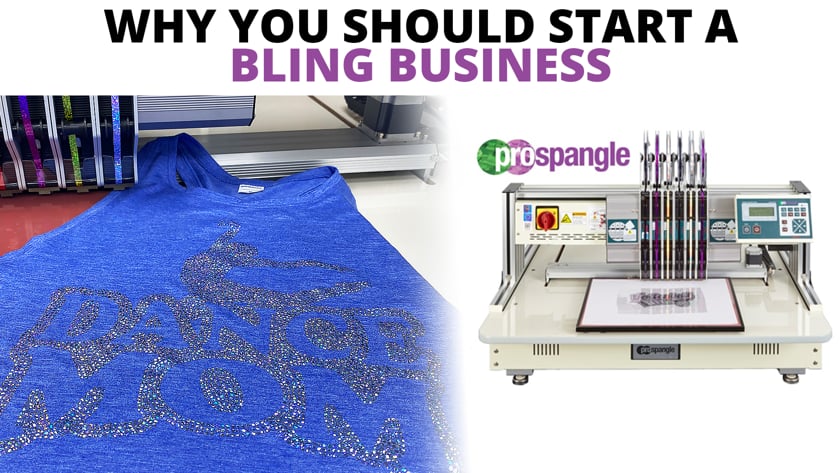 Spangle Transfers and Blank Apparel Costs
Now, on Colman and Company, you can find a variety of tank tops, in the video above, we used a PREMIUM tri-blend tank top by Sport-Tek.
We chose it because we've seen a lot of price flexibility depending on the look and feel of the garment itself – that means you can charge more for better quality.
This Sport-tek ® Ladies Posicharge ® Tri-blend Wicking Tank was $8.20 but you can find a variety of tanks for around $4.00.
This design contains 4045 2mm Spangles. This HUGE design only costs $1.12 in Spangles!
The "Dance Mom" Design is 10.475" x 11.223". Your transfer tape cost would be only $0.57 if you purchase a 16" X 100m roll from Colman and Company.
Total costs of goods per "Dance Mom" Tank Top = $9.89.
However, this is with a premium tank top.
How much can I make selling Custom Spangle Shirts?
The ProSpangle punches these designs out FAST! And they only have to sit under the heat press for a few seconds. So you can comfortably make this custom shirt in about 6 minutes.
That means you can produce 10 custom Spangle shirts in just one hour of work.  
By retailing each custom bling shirt at $30 a piece you generate $300 in sales in just one hour!
Revenues per hour: 10 tanks per hour X $30.00/shirt = $300.00
Materials Costs per Hour: $57.40
Remember, our cost of the Port & Company Core Cotton Tank Top + the transfer sheet + Spangles is $5.74.
So, 10 custom spangle tanks are going to cost you about $57.40 in materials.
10 bling shirts per hour X $5.74/per shirt = $57.40.
That's $300.00 in sales minus $57.40 in cost of materials = $242.60 that you can make filling an hour's worth of orders.
One more time:
After subtracting the cost of goods, you can put $242.60 in your pocket for just ONE HOUR OF WORK!
ProSpangle Bling Machine Return on Investment
Here's the fun math on making bling apparel with the ProSpangle:
With an average financing price of $359 a month, for our ProSpangle, you can make your monthly payments by selling just 15 custom Spangle tanks!
Everything after that is pure profit!
Do you already have a customer base with local dance or cheer? Or kids in sports? Selling bling spirit wear to other team parents is an easy way to start.
More about the ProSpangle:
So, don't wait any longer! Live chat one of our pros today to get started.