The UniNet iColor 560 is a small format, high quality what toner printer. It's used mostly for printing custom t-shirt transfers, but it's also great for making promotional products too.
Conveniently small enough to fit on a desktop. Plus, it's inexpensive enough to help launch a home -based business or side gig on a budget.
Because the UniNet iColor 560 LOOKS like a regular printer and is sold by standard kinds of online "printer stores", it's easy to think finding it cheaper is best.
But the i560 is a white toner printer which is used to make transfers. That's not as simple as printing a document on your home inkjet printer, no matter how easy we make it look
Especially for entrepreneurs starting a business – you're going to need support, supplies, training, and advice that you can't get just anywhere.
DigitalHeat FX UniNet iColor 560
Or the DigitalHeat FX i560 bundle which includes everything you need to get started. You can find the full information on the bundle here. But here are a few highlights on why you should buy from ColDesi.
First, we're a customization systems company.
ColDesi has been in the personalization and customization machine business for decades. And we've helped WELL over 33,000 people like you get started.
In fact, we're the #1 seller of white toner printers in the whole world!
With our decades of experience in equipment that lets the user customize and personalize finished goods means that we don't just understand the UniNet iColor 560. We understand everything around it.
Since we started with commercial embroidery machines originally, we outfitted big retailers and embroidery businesses with multi-needle, multi-thread equipment. Check out our Avancé Embroidery Machines.
Seen a Perry Ellis or Greg Norman polo with a logo on it? Might have been done with one of our embroidery machines!
There's more – the point is we KNOW customization and are best suited to help you choose the right machine. And support you after you do.
Second, the Bundle is Best
The BEST deal on a UniNet iColor 560 really depends on the bundle. What comes with it can mean the difference between success and failure for your business.
For example, the DigitalHeat FX i560 packages all include:
Exclusive to ColDesi and the DigitalHeat FX Bundles
Print Optimizer Software and EZ Peel Paper
Print Optimizer and EZ Peel papers are both ColDesi/DigitalHeat FX brands of products. We made them with you in mind – FOR you.

But there are 2 more things that every DigitalHeat FX UniNet iColor 560 bundle comes with that are impossible to get elsewhere:
That training is delivered in a professional online learning platform. Self paced videos that you mark complete. Content developed by our internal experts to help you succeed.
We don't just send you to YouTube and wish you luck. Visit http://training.coldesi.com to learn more.
Here's what you'll see at the beginning of your course: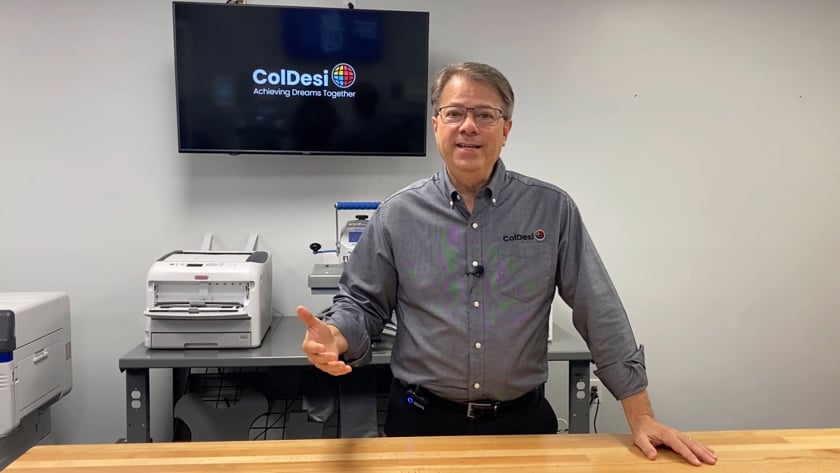 UniNet iColor i560 for Sale
ColDesi has a few different ways you can buy a UniNet iColor 560 from us:
Just purchase it like you would from any other online store. That's not our cheapest or most expensive option, by the way. But one of the most popular.
Second – you can click on the payment button on Colman and Company to get approved for financing. ($193/month on that bundle at the time this was published).
When you're approved we get notified and will follow up with all your ownership information.
Here's an interview with an equipment financing expert if you want to learn more about that idea:
Third – find the i560 on our DigitalHeat FX website. Then either chat with someone during office hours or fill out the contact form.