If you've been thinking about joining the white toner transfer customization family, we can help point you in the right direction.  
Here at ColDesi, we encounter customers just like you that are ready to make the jump into owning their own customization business.   There are lots of case studies that demonstrate how a white toner printer business can be highly profitable.  
With experienced professionals backing you up, and high-quality machinery, tools, and supplies, we can help get you set up for success without breaking the bank.
Below we've listed every item you'll need to get your white toner transfer customization business started and why each one is important.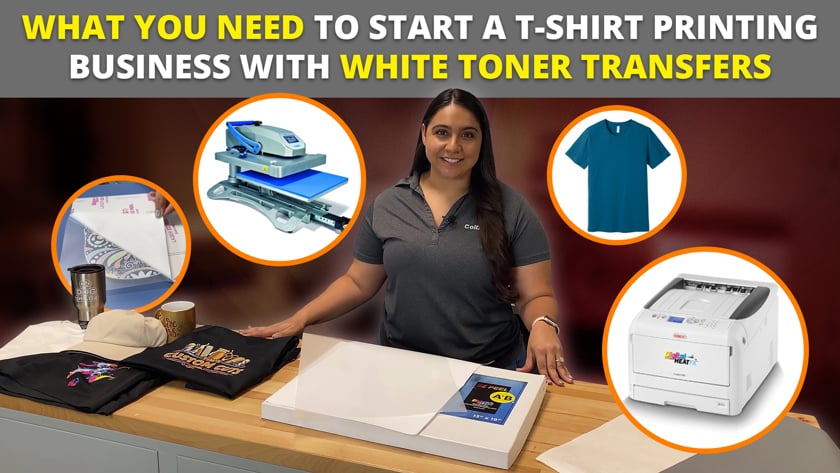 The most important piece of equipment you'll need for your business is a DigitalHeat FX white toner transfer printer.  If your looking for a white toner printer for shirts, ColDesi, Inc. has you covered.
We carry this premium line of white toner printers in 3 different sizes. Of course, size depends on your production needs and anticipations.  
Let's talk a little bit about these different printers and which one may work best for your business. 
The newest addition to our white toner transfer printer family is the DigitalHeat FX i560.

This printer is compact and has the lowest cost of entry into the white toner printing business. It can also be turned into a sublimation printer as well.

With a max print size of 8.5" x 14," you can fit plenty of small graphics on one of these pages.

This may be an excellent option for your business if you plan to switch between white toner transfers and sublimation.

Although, we recommend purchasing a dye sublimation printer like the Sawgrass SG1000 if you plan on joining the sublimation printing family.

Next, we'll introduce the second printer in this line.
The DigitalHeat FX 8432 printer is our flagship and most popular white toner printer in this line.

It can print up to 11"x17", which is twice as big as the i560, and can print full-color transfer sheets at 16 pages per minute.

This printer is a great choice for your startup or small business because of its size, speed, and ease of use. If you have lots of promotional items to print, the 8432 is for you.
Finally, the last out of the white toner printers we offer is the DigitalHeat FX 9541, which is the largest printer out of the bunch but the most powerful.

With the DigitalHeat FX 9541, you can print up to 13"x19" transfers. This is a fantastic option for your business if you want to print oversized t-shirts with a low production time. It also is the first transfer printer to offer a five channel CMYK (Cyan, Magenta, Yellow, Black) plus white system. The colors on your prints will be richer and brighter.

One of the best things about the DigitalHeat FX line is that each printer can create full-color graphics in a single pass. Unlike heat transfer vinyl and screen printing, the DigitalHeat FX white toner printers require the same amount of work regardless of how many different colors the design has. You can create multicolor designs at a quicker rate.

Now, let's discuss the software aspect of your customization business.
The Importance of Software
Another important aspect of owning a white toner transfer business is the software. Luckily, this isn't something DigitalHeat FX printer owners have to worry about purchasing separately.  
Each DigitalHeat FX system comes with the Print Optimizer Software program. This software is set up to help you easily print your promotional products without having prior knowledge or a background in Photoshop or Illustrator.  
Now that we've covered printer and software basics let's move on to another key item in the white toner transfer customization business, a heat press. 
Time to pick a heat press
Having a heat press is essential in the white toner transfer business. Making sure to choose a heat press from a reputable brand will play a massive role in the success of your business.  
The most common and our favorite heat press that is included with some of our bundles is the Hotronix Fusion IQ.  
Hotronix is one of the leading manufacturers of heat presses that offer the best quality and consistency. This is why we choose to provide the Fusion IQ in some of our bundles.  
Heat presses like this one are great for printing on t-shirts, tote bags, mousepads, and much more. 
Specialty Heat Press options
If you plan on venturing out to customizing goods like mugs and caps, you'll need either a mug or cap press.  
Let's talk about mug presses for a second.  
A mug press is used to customize mugs, glassware, and tumblers if it accommodates the sizing. Its circular shape allows for all-around customizing, which means you can print a design from one side of the handle to the other. 
We recommend using a mug press like the Digital Knight Mug Press or the Galaxy Mug Press.  
Now let's talk about hat or cap presses.
These specialty presses are explicitly designed to customize items like hats, beanies and visors. 
Most cap or hat presses can swap platens so that different-sized items can be pressed on. However, we like the Hotronix 360 IQ Hat Press because it has a one-size-fits-all platen.  
The versatility eliminates the hassle of changing between platens for different items.  
Another cap press we recommend is the Galaxy Hat Heat Press.  
We offer all these heat press machines on Colman and Company along with a variety of other brands and sizes.  
Now that we've gone over the details about heat presses let's discuss the importance of paper. 
Next up: White Toner Heat Transfer Paper
In the white toner transfer business, it's crucial to have the supplies and accessories you'll need to start creating custom goods. This is especially true with paper. 
To create custom items with a white toner printer, heat transfer paper is needed. This kind of paper has been specially treated to transfer printed designs to garments when heat is applied.  
You might be wondering where to find the best white toner transfer paper. 
We've made it easy for those of you by creating the best white toner transfer paper for your printer, EZ Peel.  
About EZ Peel White toner transfer paper
EZ Peel white toner transfer paper is the best paper for your white toner business for various reasons that we've quickly listed below.  
EZ Peel paper is best known for its application on cotton, polyester, and blends of white and dark colors, including black.  
However, one type of EZ Peel paper won't work well with all substrates.  
For example, you won't get the best results using the same type of EZ Peel paper for t-shirts if you're customizing mugs.  
It's crucial for you to become familiar with the three different types of EZ Peel white toner papers and what they are made for. 
The 3 Types of EZ Peel Paper
This is used for apparel items like t-shirts and hats. It consists of an "A" and "B" sheet. The "A" sheet will contain your printed design and is heat applied to the "B" sheet that contains a special polymer to "marry" or bond them together. This polymer will only adhere to the toner on the "A" sheet and will result in a transfer that is ready to be applied to your garment or sold as-is.
This is a great option for you to have in your business if you are looking to speed up your production times and save some money. However, we only recommend using this paper on specific applications like light-colored, low-wash garments that you only plan on wearing a few times. It's also better to use EZ Peel 1 Step paper for designs that have only have a little bit of white. An ideal item to use EZ Peel 1 step white toner paper with is canvas bags.
As the name implies, this paper is designed for use on hard goods like metal, wood, and glass. EZ Peel Hard Surface paper has a coating on it that is scratch and fade resistant. This keeps custom items long-lasting if taken care of properly. Use this paper to customize mugs, signs, plaques, and much more.
Making sure to purchase high-quality paper will make sure you have the best prints.  Therefore, we recommend the EZ Peel brand of white toner heat transfer paper instead of opting for the cheapest route. We've talked about printers, heat presses, and paper. But what uses is all of that if you don't have blanks to start customizing on? 
Next, we'll briefly discuss where to find top-quality blanks and substrates for your business. 
We know firsthand what a pain it can be to find suitable blanks and substrates all in one place.  
That's why we make sure to continuously keep stock of a wide range of blanks on our supply division site, Colman and Company.  
We offer t-shirts from popular brands like District, Port & Company, Bella + Canvas and many others. The same goes for blank hats, mugs, tote bags, etc.  
You can count on the same items each time you shop with us in tons of different colors and sizes, without any minimums required.  
Just be sure to have a good stock of blanks on hand that you think will sell.  
The last couple of things you'll need for your white toner transfer business are some heat press accessories.  
Having accessories to accompany your heat press will help aid you in the printing process.  
Some of these accessories include: 
Some of these accessories are not 100% necessary for your business to kickstart. But, it's a good idea to gather some of these over time in order to make your job easier.
Of course, you want to work smarter, not harder. You can find a longer list of heat press accessories and products here.
Now that you know everything you need to start a white toner transfer customization business, you can start the shopping process. We have experienced professionals ready to help you make the leap into the customization world with the support and training you'll need to be successful.
Want to know more?
Visit our DigitalHeat FX website and live chat with one of our pros to get your business started.