A roll slitting machine can convert rolls to sheets and cuts larger rolls into smaller, custom sizes. With our advanced, automatic machines, master rolls are cut into one or more, narrower rolls. Slitting machines can be used to reduce the size of wholesale rolls to fit your unique process.
Colman & Company offers a range of GEMfix Rolled Materials Cutters that convert rolled goods into useful sheets.
High-quality, automatic roll to sheet cutters available:
With so many size options, you're bound to find the perfect machine to meet your company or project's needs.
Need help with your selection? Simply reach out to http://colmanandcompany.com and chat with a rp for more information on machine options, financing, and more.
GEMfix Roll Slitters Capabilities
GEMfix rolls splitting machines are the best, reliable option on the market thanks to their advanced capabilities and range of benefits.
The GEMfix cutters can cut a wide variety of materials.
These machines are super powerful! They use a 110v outlet and draw 4-amps of power. Our devices require an air compressor capable of 25/liters per minute.
Not only are the GEMfic cutters powerful – they're fast, too!
The GEMfix roll to sheet cutters can cut one every 3cm with a maximum cutting length of once every 100M at 450 cuts per hour. Wow!
Colman & Company's line of cutters can cut solid materials up to 1/16 in. and ½ of materials such as bubble wrap. They hold a maximum roll weight of 80lbs.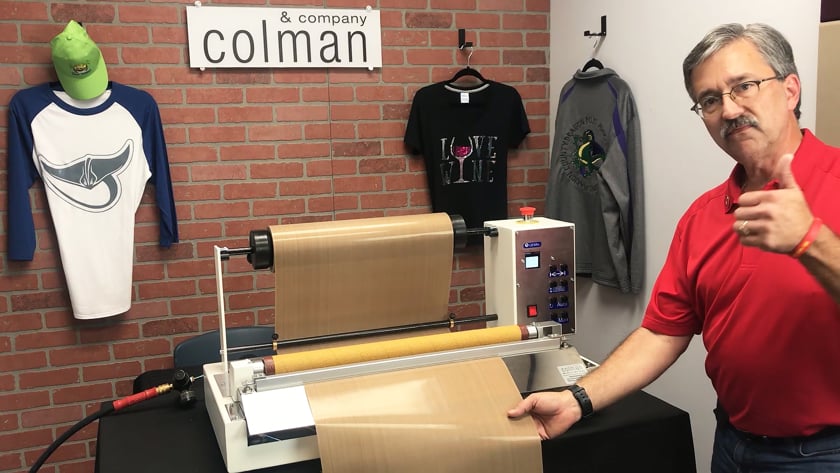 Why Get a Roll Slitting Machine?
The blade of the GEMfix roll slitter will cut through the roll of material and its core in seconds, significantly cutting down on your labor time and materials costs. Thanks to the accessible and easy loading features, you don't have to worry about damaged goods or roll cores.
Some of the benefits of adding a roll slitter to your business:
A fully automatic roll slitter and cutter isn't just good for business – it's good for your team!
GEMfix machines are user-friendly and don't require an engineer for operation. The adjustable blades are safe and allow for easy replacement, cutting down on potential accidents.
When it comes to replacing the blades, GEMfix uses a standard, flat utility blade that can be purchased through Colman & Company website or any hardware store.
Roll Slitting Machine Uses and Applications
The GEMfix roll slitters from Colman & Company have been developed to cut, split, and process any type of material sourced in rolls.
Roll cutting machines are helpful and valuable for a wide range of sectors such as home textiles, apparel, automotive, digital printing, sign making, food packaging, warehouses, and more.
Here are a few of the compatible materials and possible applications for an automatic cutter:
Is a Roll Slitting Machine Worth the Cost?
The pricing for the GEMfix slitters sold by Colman & Company ranges from $7,795.00 to $10,398.00.
The cost of your machinery will depend on your specific requirements for core width and maximum material cutting width. The machines offer cutting widths from 20" to 59" to suit any size project.
Why invest in a roll splitter?
Custom size rolls can be an unnecessary extra cost. Many companies are able to increase revenue and decrease overhead by purchasing wholesale paper, tape, packaging, or vinyl rolls and cutting to the required size.
If you're unsure which machine will work best for your needs, reach out to our team at Colman & Company for additional pricing and information.
How to Purchase the Best Roll Slitting Machine
Visit the Colman & Company website to view the selection of roll slitting machines, replacement parts, and other devices.
The GEMfix xc line of roll cutters is the best option for cutting and splitting master rolls of a number of different rolled materials. You can expect great results and increased revenue. Your imagination is the only limit on what a roll cutter can do for your production or process.
To order, Colman & Company's online retail store makes shopping for machines and replacement pieces fast and easy. Use the "Quick Order" option to order online or print a hard-copy form to mail or fax!
Contact our helpful and friendly team at Colman & Company to learn about how you can finance a roll cutting machine for as little as $410 / month.