Do It Yourself Custom Home Décor is all the rage these days. People are looking for ways to add their own personal touch to their homes, but lots of people don't have the time or patience to make unique pieces themselves.
Here's where you come in… Do you want to make some extra money? Maybe you are looking for a new hobby that can also bring in some extra cash. If so, then you should consider trying your hand at custom home décor.
With the customization equipment we have here at ColDesi, it is easier than ever to create beautiful and unique pieces for people's homes. In this article, we will discuss some of the different ways that you can use our equipment to create custom décor items. We will also provide some tips on how to get started!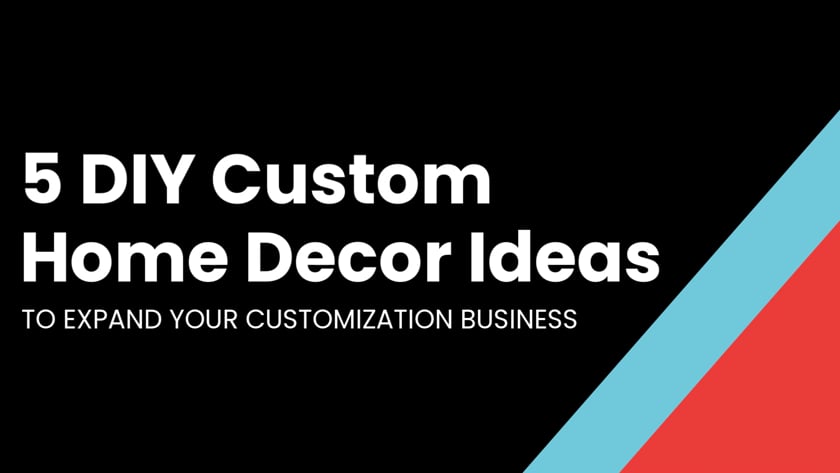 Custom Tiles and Tile Murals
One of our favorite ways to customize décor is with photos. Whether you're looking to create a photo collage or simply frame a few favorites, this is a great way to personalize your space. And thanks to modern printing technology, it's easier than ever to get high-quality prints of your images.
We love using UV and Sublimation printing to make digitally printed, custom tiles. Decorated tiles can be used for unique backsplashes, fun shower designs or statement pieces in the kitchen and bathroom.
Sublimation is an affordable way to start printing on ceramic tiles. This printing process requires minimal supplies and is easy to learn.
The way sublimation printing works is by chemically changing the properties of the surface you are pressing on. The Ink from sublimation printed transfers, dyes the substrate when heat and pressure are applied. But you do need special substrates that are polyester coated and ready for sublimation.
Sublimation Ceramic Tiles can be found on our online supply division, here. They come in tons of different shapes and sizes so you can find the exact look you are going for.
Something great about sublimating tiles for kitchens and bathrooms is the longevity of the prints. Sublimation printed items are known for their durability and crisp finish.
In areas like kitchens and bathrooms, where the tiles will be cleaned and splashed with water often, sublimation is a great customization option.
UV Printing is another popular way for customizing tiles, because of the freedom to print on different surfaces.
The Ink used by the Compress and Mutoh UV Printers has amazing adhesion and sticks to not only ceramic tiles, but also travertine, marble, limestone, slate, granite and more.
This printing process works by printing and setting the ink at the same time inside the printer, using UV lights.
Compared to sublimation, production time can be a little longer, but this will depend on the design and number of tiles.
However, UV Printing has the unique ability to layer ink, making 3D and textured prints. Users can create really abstract designs like tiles murals for kitchen backsplashes with textured landscapes.
Custom wood signs are a popular way to add personalization and style to any home. There are many selling opportunities for wooden signs for holidays and other special occasions. Wood signs can be created with different grained word to fit any decorating scheme or taste.
Personalized wood signs make great gifts too. Whether you are looking for a unique gift for someone special or you want to add a personal touch to your own home, custom wood signs are a great option.
One of the newest ways to decorate wood signs is with white toner printing like the DigitalHeat FX system.  
White toner printers use a special adhesive transfer paper that sticks to a variety of had surfaced items.
Traditionally, vinyl and paint have been the most popular ways to decorate wood signs. But this confines you to vector art, with limited colors. These processes are also time consuming and can take a good amount of artistic talent. Digital Printing has created a new way to put any design you want on wood in minutes.
The DigitalHeat FX System paired with the EZ Peel Hard Surface Paper is our go-to for wood decoration. You simply print the design on the Hard Surface Paper using a DigitalHeat FX Printer, like the Crio 8432, then heat press it onto the blank sign. After it cools completely, you remove the transfer and bake it in the oven.
One of the best things about this printing process is being able to use blank wood signs found at local craft and department stores.
Light Switch Covers are an easy money-making opportunity in the home décor market. After a quick online search on websites like Etsy, custom light switch plates retail anywhere from $7 to $14.
AND they are not custom. This means they are selling several of the exact same light switch plates. Some sellers allow you to personalize with a name but only offer one font and one placement.  
With this kind of competition, it's easy to see you can get at least $10 each for a completely customized light switch.
Blank light switch covers are pretty cheap. A 10-pack of plain plastic light switch plates is $3.97 at our local home improvement store. So, each plate is about $.40 apiece. But if you are buying these in bulk, you can get them for even less.  
With these numbers, you can see how profitable it is to start selling custom light switch plates. Plus, think about how many light switches you have in your house. Odds are if a customer wants custom-designed light switch covers, they want the plates in the rest of the house to match too!
UV Printing gives you the freedom to print directly onto virtually anything. Our line of UV Printers is ideal for not just promotional products like pens and key chains BUT is also the perfect fit for more creative projects like custom home decor.
The speed and quality of the Mutoh XpertJet 461UF make it easy to make big profits by turning something inexpensive and simple like light switch plates into custom masterpieces.
Light switch plates are relatively small, so you can fit tons on the Mutoh XpertJet's print bed at one time and use variable data to print something unique on each one all at the same time.
Pillowcases are a fun way for homeowners to express their style, front and center. Often you will see couches proudly displaying pillows with the home's zip code, last name, family crest, favorite dog breed, and other elements. Pillows have become the new way to really spruce up a living room or sitting room.
High-Quality pillowcases are in high demand because they can be washed and used for years and years. Homeowners and renters especially love holiday-themed pillow covers to pull out during celebrations!
Depending on the style of the pillowcase, there are a couple of options for decoration, but here are some of our favorites.
Embroidery is a long-time favorite customization method. Embroidery is known for its clean professional finish and classic look.
Something great about commercial embroidery machines like the Avance, is that you can sew on tons of different materials. Cotton, linen, silk, satin, wool, microfiber, are all popular fabric options for pillows and they all embroider great!
Embroidered monogram and last name pillow covers are also a great selling opportunity in the wedding and bridal market.
The Avance 1201C and 1501C commercial embroidery machines also come with an on-board memory and touchscreen control panel that features keyboard lettering with 26 font options. This let's you do custom last name and initial embroidery on pillowcases on demand without the use of a digitizing software.
While Direct-to-Garment Printing is traditionally known for its t-shirt printing capabilities, you might be surprised to learn that pillowcases are another decoration possibility.
DTG Printing is ideal for cotton applications, and cotton pillowcases are a popular option for the bedroom because of their soft finish.
With the DTG G4 and its patented vacuum platen, you can print full-color photos on pillowcases. Here's a cute idea for the Kids: Imagine selling pillow covers for when they go away to summer camp with their family pets or their family on them!
Pillowcases can also be decorated to fit specific bedroom themes, like beach or farmhouse.
Embroidery can sometimes have a rough feel, but Direct-to-garment prints have virtually no hand feel and are super soft. This makes DTG Printing a great alternative way for DIY customizing pillows.
Ikea Hacks are all the buzz on the internet. You can add a unique touch to custom home decor by UV printing basic Ikea products like the Besta Cabinet Doors and Lack Side Tables.
Ikea furniture is known for its low prices and great quality. Some cabinet companies are already offering the option to print designs or patterns directly onto cabinet doors. But this is usually expensive, scaring off potential customers.
Offering them high-quality furniture from Ikea with custom printing at a fraction of the price is a great money-making opportunity.  
Custom cabinet doors can add a personal touch to the kitchen, mudroom, bedroom, living room, or bathroom!
The large bed size (44.8″ x 29.5″ and a depth of 11.8″) of the Compress iUV 1200 makes it possible to print stunning images directly onto these otherwise boring doors. This is a high-dollar item that interior home decorators can offer their clients.
To complete this project, you will UV print each door separately, and in the Compress RIP software, you will line up the artwork to have a seamless transition from one door to the other. A flatbed UV printer like the iUV1200s is a real problem solver.
While it was developed for use in promotional, signage, and industrial marking, the bed size and especially print depth have made it the perfect solution for some really unique projects.
Forming Business Partnerships
When you sell home décor items like the ones above, you can partner up with real estate agents, interior designers, and contractors. With a relationship like this, you can become the go-to for when people are looking for custom pieces. This can set your side hustle or t-shirt decorating business apart from the competition in a big way!
The best way to get your name and work out there is by offering samples. Simply ship some of your custom work to local designers and contractors and let them see your work firsthand!
Social media and neighborhood groups like Nextdoor are also an easy way to get your business out there. Post some of your custom pieces online and see if anyone is in the market for custom home décor.
Drive around the neighborhood and see who is building or remodeling. Send them a custom piece or a business card. Sometimes homeowners do not know where to go or who to reach out to for the things they are looking for!
If you're interested in starting to design and create custom home decor, there are a few things you'll need to keep in mind.
First, you'll need to decide what kind of equipment you want. There are all sorts of options out there, so take some time to browse the machines we have at ColDesi and see what catches your eye. Many of our equipment options are super versatile and give you the opportunity to have a fruitful t-shirt business too.
Next Steps | Chat with a Pro
Once you've decided on the type of equipment you think fits your needs, give us a call or live chat with us right here on this page. In the bottom right-hand corner of the screen, you will see the chat box, simply click there, and one of our equipment experts will answer any questions you have.