Bringing Production
In-House
In order to capitalize on a loyal customer base, many people who are in hospitality management have added branded apparel to their sales.
These are often t-shirts and caps with their logo or their company tagline. Depending on their business it could include growlers, magnets, mugs, etc.
Outsourcing these items can be tricky – ensuring that you have the stock you need to service your customers and the flexibility to pivot with customers' changing desires.
Instead of outsourcing, you should consider adding an apparel printer to your business.
When individuals have a great experience at a restaurant or resort they become invested in that brand. They also become passionate about sharing that brand with other people. It's no secret that word-of-mouth sales are the most profitable and create more long-term customers.
Capitalizing on word-of-mouth advertising, branded merchandise allows customers to express their love for a brand.
Instead of outsourcing your employee uniforms, adding a printer within your hospitality management routine allows you to create them in-house. Providing you with the flexibility to change up the uniforms with changing seasons or promotions.
Have a big event or promotion coming up? Uniforms specific to that event leave an impression on your customers or guests.
All this while reducing business costs from outsourcing.
The same printer that you use to print the design for apparel can be used to print business materials as well. Everything from menus and signage to door hangers for your hotel.
Changing up the restaurant menu can be a challenge, especially if something becomes unexpectedly unavailable. However having a clean menu that properly reflects what's available to customers is important for their overall experience.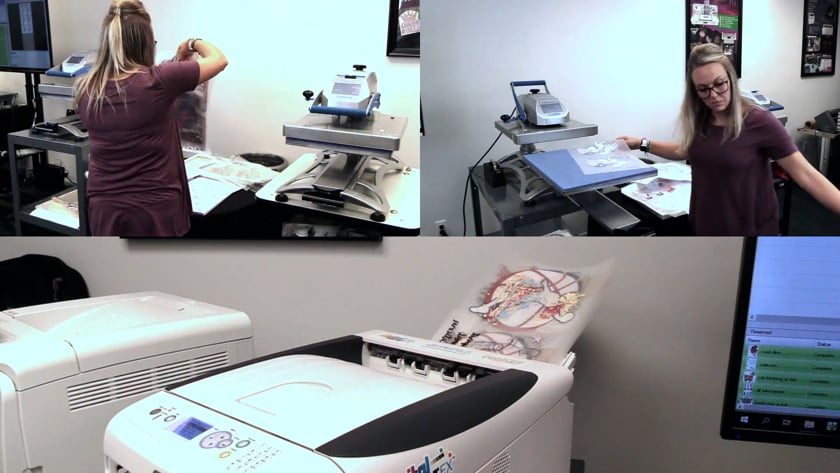 Consider the cost of outfitting all your employees in their branded uniforms. A quick online search shows that about 20 polos in mixed sizes, customized with an embroidered restaurant, will run about $400. Full-time employees typically have around 5-7 shirts.
Those uniforms also have to be replaced on a regular basis. At a cost of $20 per shirt, the cost per year, per employee could range between $150 and $300.
Instead, doing the embroidery in-house can bring the cost down to $220 for those same 20 polos. You would be saving around $9 per shirt or between $70-140 per employee.
There are also chef jackets and aprons to bring into consideration.
Bring the uniforms in-house has considerable savings that could be used to help improve overall hospitality management for a better overall experience.
Ensuring that your employees have a crisp, clean uniform is important for providing customers with a positive impression of your business. Not waiting weeks for those new uniforms are important.
By printing in-house, employees could have new uniforms by their next shift.
The same applies to merchandise sold in your resort or restaurant. It can be difficult to anticipate demand. A certain item might have increased sales unexpectedly.
In-house printing ensures that you are able to be responsive to the changing demands of your customers and that you're never out of a popular item.
As we noted above, the cost of an embroidered shirt is about $11. Businesses can typically retail that shirt for between $20-25. Selling 200 shirts a month can add an additional $1,800 to your business.
By adding a variety of branded merchandise and looking at cost, plus ROI and demand, you can add revenue to the business while providing customers and guests with something they'll enjoy wearing or using.
Bringing your employee uniforms in-house can help save your business money. All while allowing you to get the quality you need withing your own hospitality management routine – with a faster turn-around.
It also allows you to add an additional revenue stream to your growing business that helps you with advertising and word of mouth.
One or more of the Avance 1501C compact embroidery machines is all you would need to get started. Talk to the experts at ColDesi to find out how we can help.