Higher Profits and Better Customer Experience - for Retail Brands and Wholesalers
You may not recognize the term "configurator," but you'll likely know what it is when you see it.
If you've gone to one of the large custom t-shirt or embroidery websites, for example, you've seen a configurator in action.
Café Press, Zazzle, and Ooshirts are all famous for using configurators that enable people to upload their own graphics to have printed on a t-shirt
And if you are already in the custom apparel business, you're probably familiar with many other companies offering that kind of On-Demand configuration.
While Configurators aren't right for every business, there are some significant segments of the fashion and consumer product markets that can benefit in surprising ways.
Wholesale Apparel Decorators
One reason that many larger wholesalers are adopting configurators and implementing custom web stores is for better customer experience.
Most wholesalers are making the transition from traditional methods and attitudes to the customer-centric ones that brands and retailers have had for years.
Traditionally, a wholesale screen printer would simply take a purchase order by fax or email. Or they would get a phone call from the customer and fill out a paper order form from that conversation.
But wholesalers began to realize that there's no good reason to treat a big brand, or large customer, differently.  Shouldn't they get the same easy ordering, excellent online experience that YOU get when ordering anything else online?
That's why Wholesalers are adopting online configurators now.  -so that big customers can order quickly, easily, and efficiently.
Branching Out Into the "Retail" Market
The other reason that wholesalers are adopting custom product configurators and using web stores is to branch out from their current base.
Adding a hybrid retail model can add big profits by taking advantage of those well-honed production methods and applying them to higher ticket product sales.
Since setting up multiple web stores is a straightforward part of useful configurator applications, it's simple to set up one "portal" for your commercial or brand customers, and another for more consumer-oriented ones.
Often this foray into the retail world proves so popular that wholesalers adopt new equipment to handle more and more profitable smaller orders.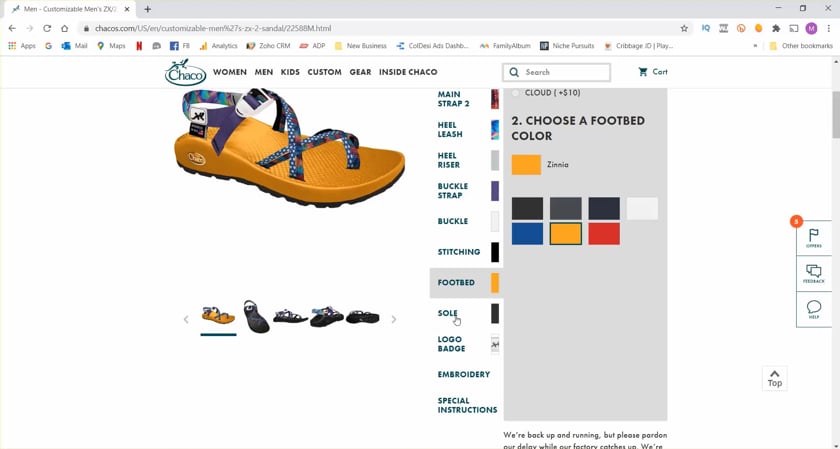 Configurators and Retail Brands
The appeal for Brands to adopt customization – and configurators like you'll see in this video demonstration of a 3D configurator implemented at Chaco – is most obviously that customer experience.
There's no question that the difference between choosing from a small defined list of options isn't as appealing – or as FUN – as visually assembling you're own online.
Try shopping at Amazon for sandals – then head over to the "Customize" section of Chaco and compare experiences.
Vera Bradley is another excellent example of a truly iconic brand that is adding configurators, i.e., personalization to their product line. Their Make it Personal section sets a high bar for other brands' approach to personalization.
The configurator they use not only lets you choose the fabric for the bag that you've chosen, but it also allows you to personalize it with a monogram or "whimsy" embroidery on the spot. (For an extra $10 on a $40 bag, for example)
But one of the best reasons for a Brand to use a Configurator is because the Marketing and Referrals are baked right into the product.
Check out this feedback from the CSO of July Luggage reported in a Forbes.com article:
Configurators, Customization, and PROFITS
Being able to customize the fashion accessory or product you're buying isn't just a big win for customer experience. It's a big win for company profits as well.
There's a commonly quoted Deloitte study on personalization that says 20% of consumers that are interested in customization will pay 20% percent more for the privilege.  The 20+20 Rule.
However, a quick look at some popular online stores that use configurators for personalization will show you that number is LOW.
Chacos sandals, for example, charge 30-40% more for heavily customized sandals vs. off the shelf.
The Vera Bradley embroidered bag example we used? That extra $10 for a simple monogram represented a 25% bump in the retail sale.
Wholesale screen printers, digital printers, and embroidery businesses can experience and even more stark difference in profits when they go more retail and adopt this configurator model.
A fashion brand might pay you between $4 and $11 for a regular, large wholesale run. But a business or consumer might pay you TWICE that for personalization.
It's not a myth., Even good-sized companies, will pay $20-$35 for a customized t-shirt, polo or cap. So where a Brand might experience that 25-40% rise in revenues, your wholesale screen printing or embroidery business might see something closer to a 100% jump in sales prices.
Even if you did need to adopt new production methods, that's a lot of additional profit to fund those changes!