You don't have to customize hats at Lids or in any mall or kiosk. You can do so at home or in a small shop… and MAKE money instead of spending it.
When you customize hats at Lids or other retail outlets, you're going to spend about $40.00 for a hat with a logo. And your options for customizing that hat are limited to embroidery.
And while the customize embroidered hats business is a great one to get into, it's definitely not your only option!
Here's a quick look at those methods to give you an idea of your options should you choose to start a custom cap business, or just invest in something for personal use: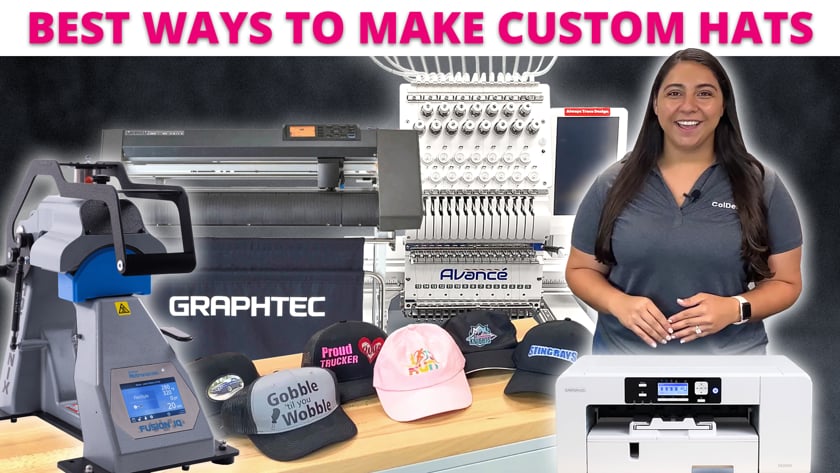 Now each of these methods vary in price. But they all require that you find and buy blank wholesale hats – because you'll never make any money starting with a hat from Lids or a retail outlet and THEN customizing.
So, before we get into comparing the methods, let's look at wholesale hats and pricing options:
Next, you'll want to do the Math to make sure you're Business makes sense.
You already know what your product(s) will be and how much you can charge.
Most places that sell wholesale blank hats do make you do some paperwork before you qualify for an account. They may as for a business license or tax ID, and even require some time in business.
But Colman and Company (ColDesi Supplies) is one where you can easily sign up for a free account with no requirements and just start buying.
Here's a great example of a wholesale price for a blank cap. Just $4.10 for a 2-tone snapback trucker cap.
And a few other styles to give you a feel for what you'll pay for blank hat you can customize.
Even the most expensive of these wholesale hats are under $10 – and with no quantity minimums.
Remember the customized hats at Lids for $40? There's some room for profit!
Options to Customize Embroidered Hats
First thing, you're going to need a professional or "commercial" embroidery machine.
There are some home machines and sewing store models that tout the ability to sew onto hats. But in reality, they're just too limited in size, speed, and quality to base a business on.
The good news about embroidered hats is that they're VERY familiar and the pricing is pretty well established. $40 at the higher end and $22 at the lower, depending on the quantity of course.
And the supply costs are almost non-existent.
Embroidery thread is going to cost you fractions of a penny for a typical custom logo design. The backing you put inside the cap is under $.06 each.
Even if you create a 3D embroidery design you might pay an additional $.40 each for the foam you'll need.
The 2 best commercial embroidery machines for you here at ColDesi are the Avancé 1501C and Avancé 1201C
The Avancé 1501C is a multi-needle embroidery machine with 15 needles. That means it has 15 cones of thread loaded up or 15 colors. It's the style of machine you'll see at may mall kiosks and custom hat retail stores.
An Avancé 1201C is a 12-needle version. Still multi-needle and multi-color, just a few less.
You'll want the 1501C if you're going to ALSO customize large items. The embroidery field is much larger, so it's better for blankets, table runners, draperies, etc.
The 1201C is a great choice because it's less expensive and still does a great job on hats. Plus, its smaller size makes it much more retail space or back bedroom friendly.
Watch this video to see a quick comparison:
Why Choose to Customize Embroidered Hats
Why Not Choose Embroidery?
If you're interested in the latest embroidery machine pricing – including financing – visit 
Requirements for Heat Transfers to Customize Hats
The other 3 methods to customize caps or hats are transfer printers.
That means that you produce a transfer that needs to be heat applied onto the cap. And that requires a "Cap Press" or "Hat Press". Which is a heat press specially designed for applying  transfers onto hats.
There are actually many different kinds of heat presses. Here's a video tour of your options, please watch before you read on!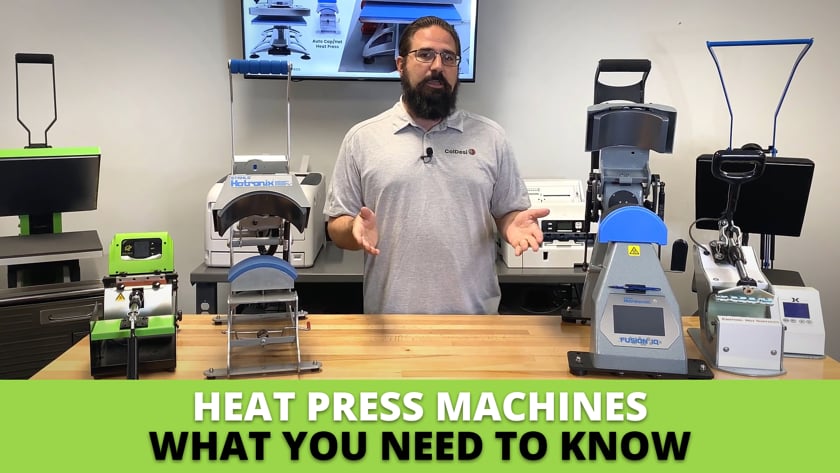 Heat transfer vinyl is how you customize HTV hats.
Starting with the same wholesale hats we mentioned above, you can make custom designs that sell quickly, easily and at a low cost.
In order to make custom hats with heat transfer vinyl, you'll need a vinyl cutter, a cap press, and rolls of heat HTV.
You've got the same kind of choice between a consumer cutter and a professional one as you do with an embroidery machine.
While it's possible to use something like a Cricut hobby cutter to make designs you can put on a cap it's too slow and limited for real professional use. Even the 12" version of these is just incredibly slow compared to a professional one.
Graphtec CE7000 15" Vinyl Cutter
The Graphtec 15" is a great starter HTV cutter for professional use. While the model numbers may change, Graphtec always offers a 15" size just for this business start-up category.
Here are a few important differences in a professional machine like this:
1. You don't have to stop to change sheets! With a hobby cutter you have to stop every 2-3 designs to put in a new sheet. You should be able to make about 90 designs on a 5 yard roll before switching.
2. Graphtec cutters are FASTER. They just cut faster and move the vinyl through the machine quicker.
3. You don't have to babysit the cutter. So you can start heat pressing your hats, or working on your marketing – or put the kids to bed – while your vinyl is being cut.
Why Choose to Customize HTV Hats
If you're interested in the latest HTV cutter pricing – including financing – visit
White Toner Transfers Customize Hats
DigitalHeat FX transfers are made with white toner printers and EZPeel brand paper specifically designed for them.
It is by far the fastest-growing customization method and has been for about 4 years.
The reason that it is growing so fast is that it offers full-color printing that you can apply to any color and any type of fabric. And that includes hats!
To customize hats with a white toner printer you will create the design, print it onto the "film", add the adhesive sheet, and heat press.
It is somewhere between embroidery and HTV in the learning curve but has a distinct advantage.
That advantage is the same one you'll have over going to customize hats at Lids.
You can create FULL-color graphics or actual photos and put them on a hat! ANY hat we've tried!
One of the ways you can give a side hustle, or any new business, the greatest chance to succeed is with the ability to say YES to more things.
Customers get virtually any design put on a blank wholesale hat. From a company logo to a picture of a family member. 
And the same transfers you make to customize heat transfer hats can be applied to t-shirts, bags, other apparel, and even promotional items.
Think about the difference between what you and someone with an embroidery machine or vinyl cutter can offer:
Scenario – a customer wants a team logo on 20 hats for a local baseball league. [You can make those in just over an hour]. You charge them $20 each and make $400 on the sale.
Then you offer them the exact same design on the left chest of the coach's shirt. And a Baseball Mom's version on a jacket or t-shirt for Mom. That could add up to another $500 sale without doing any more work other than printing the same design and putting them on shirts.
If you strictly want to create custom hats, then the DigitalHeat FX systems might not be your best choice.
Not because it won't do an amazing job, but because of the opportunities you'll be missing just doing hats!
There are DigitalHeat FX owners that are doing everything from running a successful custom t-shirt business alone to selling things like:
To get an idea of everything you can do you'll want to visit http://digtalheatfx.com
In the meantime, here is a video comparing the 3 models you have an options:


Why Choose to Customize Hats with Transfers and DigitalHeat FX
Why Not Choose White Toner Transfers?
If you're interested in the latest DigitalHeat FX pricing – including financing – visit
Sublimation - Customize Hats
The least expensive way to customize hats on our list here is using a sublimation printer.
The Sawgrass SG500 is a $699 printer right now that, when coupled with a hat press, will produce some brilliant results.
Sublimation transfers use sublimation inks and special paper, but the process is remarkably like printing a color photo with your home printer.
Here's a great video to show you what the process is like: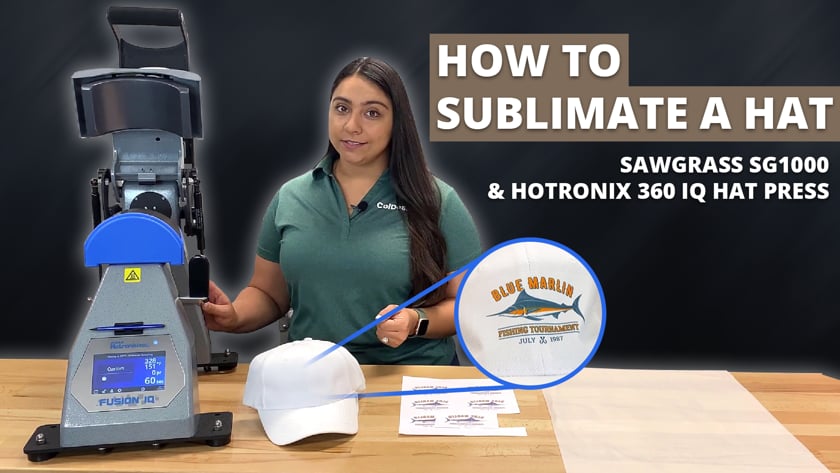 The big advantage to doing a sublimation customize hat business is specifically because the start up costs are so LOW. But you can still offer full color designs and photo onto caps or hats.
And just like the DigitalHeat FX printers, we have a tons of customers that have a great business doing a lot more than just one thing. Like:
Because sublimation is THE traditional way to make promotional products. Plus a great way to make custom apparel.
Sublimation printers do have a restriction that none of the other methods do; sublimation transfers can only be applied to polyester.
So, for the puzzles, mugs and cups above you have to buy special sublimation blanks.
If you want to make custom t-shirts, you'll need to stick to 100% polyester like with Vapor Apparel.
And for your custom sublimation hat business you'll need specially produced hats like this one:
As you can see, you'll have fewer choices for wholesale hats you can use for sublimation.
Not just because the blank has to be "sublimatable" like the Vapor Apparel, but also because it has to be a LIGHT COLOR.
With DigitalHeat FX transfers you're printing with a white toner along with the traditional colors. That white toner allows you to put the transfer onto a dark hat or garment and still look amazing.
But sublimation doesn't have white toner, so not only do you need to choose a polyester hat, it has to be white or very light in color.
Why Choose to Customize Hats with Sublimation?
Why Not Choose to Customize Hats with Sublimation?
If you're interested in the latest Sublimation Printer pricing – including financing – visit
Conclusion
Making and selling customized hats is a great business. With a lot of options for you to start.

You can open up a full blown, retail embroidery shop or mall kiosk with a commercial embroidery machine like the Avancé 1201C. Or use the same machine to run an online business from home.

Start with a heat transfer vinyl cutter like the Graphtec CE7000 and produce some great looking custom caps and hats for a very small price.

Get into a more versatile business with DigitalHeat FX white toner transfer printers. You can do full color caps, hats, t-shirts and more on almost any material.

Or start small, with a sublimation printer like the Sawgrass SG500 or SG1000.

The good news is, you can talk over all of these options and more in one place! Just chat with someone below or call 877-793-3278.